MECC Hosts 2018 Partners Meeting, 8-10 May in Lebanon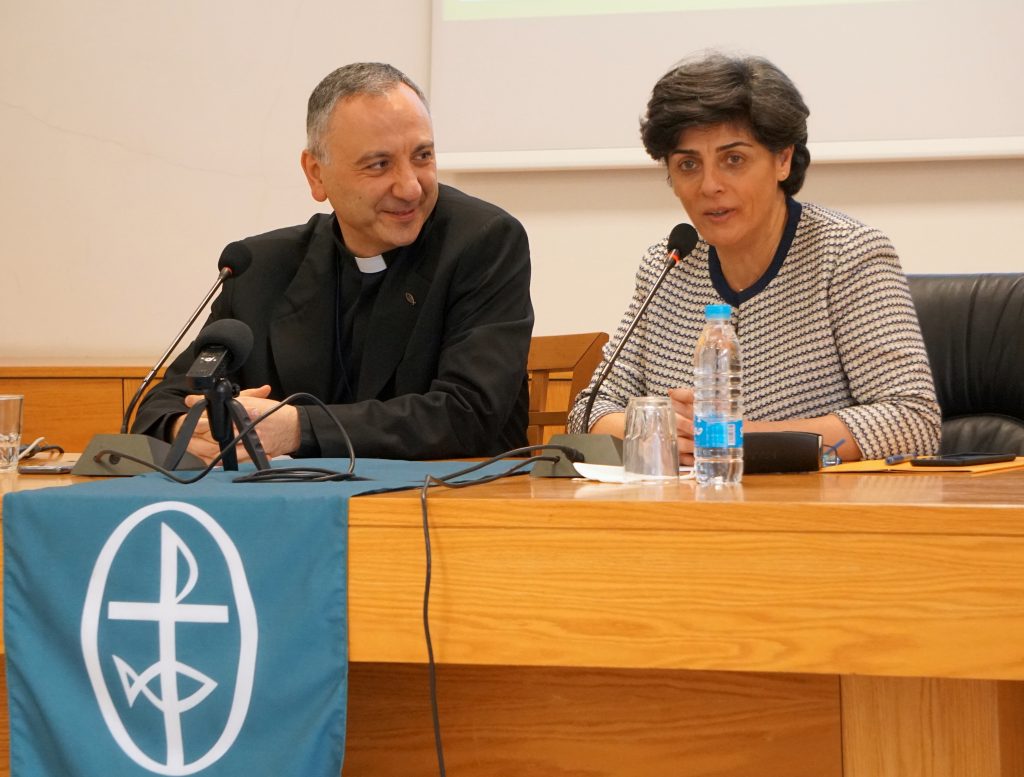 The Middle East Council of Churches (MECC) hosted its annual Partners Meeting, 8-10 May, 2018 at Deir Saydet el Bir in Bkennaya, Lebanon, welcoming both local and global partners to engage with the organization and commit to being a part of its mission and work.
Following the procession and placement of the Holy Bible into the auditorium and a time of collective prayer, the meeting commenced on the morning of Tuesday, 8 May with a welcome address by MECC's Acting Secretary General, Dr. Souraya Bechealany. Her speech was followed by an panel of experts, whose esteemed members reflected on the current situation of Christians in the Middle East:
— Dr. Paul Haidostian, President of Haigazian University, moderated the Experts Panel;
— Dr. George Sabra, President of the Near East School of Theology, spoke "On the place and role of Middle Eastern Christians";
— Fr. Gaby Hachem, Associate Professor of Ecclesiology and Ecumenism at the Faculty of Theology of "Saint-Esprit" University discussed "A new shape of ecumenism in the Middle East";
— and H.E. Dr. Tarek Mitri, Director of the Issam Fares Institute for Public Policy and International Affairs at the American University of Beirut, gave his intervention on "The churches facing extremism in the Middle East".
Over 75 persons attended the opening session, including religious leaders from the region, as well as esteemed local partners and international partners.
The afternoon session of Tuesday, 8 May commenced the working sessions with MECC's international partners. The program featured speeches by MECC Secretary General Emeritus, Fr. Dr. Michel Jalakh, and Acting Secretary General, Dr. Souraya Bechealany. MECC General Secretariat staff also presented reports and videos on the ongoing work, achievements and impact of MECC's ecumenical, interfaith, communications, relief and development programs.
On Wednesday, 9 May the meeting continued with collaborative working groups that allowed for dialogue around MECC's key themes of work. These working groups were designed to determine what areas of common interest exist between MECC and its international partners and to brainstorm how to work together moving forward. The three themes discussed were: ecumenism and interfaith, communications and advocacy, and relief and development. International partners also received a financial update.
The evening of 9 May, the group was welcomed by the National Evangelical Synod of Syria and Lebanon (NESSL) for dinner, choral performances and a special program which presented the inspiring work of the local organizing committee that is planning an ecumenical youth event to be held in Lebanon in March 2019. This event, organized by the Taizé Community, will bring together 1,600 youth — 500 youth from Europe and 300 youth from the Middle East region will join 800 youth from Lebanon — for a week of faithful communion.
The 2018 MECC Partners Meeting concluded with an official protocol visit by MECC Executive Committee members, the General Secretariat, staff and international partners to His Excellency The President of the Lebanese Republic, General Michel Aoun. There, His Excellency President Aoun discussed the history and situation of Christians in Lebanon and in the Middle East region, providing context for current political events and insights on these complex matters.